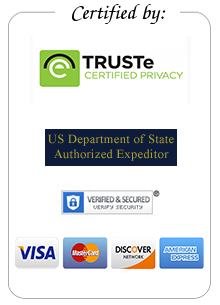 Testimonials
★★★★★
Corey, we made our trip! I still cannot believe you were able to get my wife's passport renewed in just one day. Thank you again for walking me though the whole process and going the extra mile to make it happen in such little time.
Jeff Thomas – Ft. Lauderdale, FL
★★★★★
I was concerned that we were going to have to cancel our trip to Central America since we found out our twins' passports were expired days before our trip. Your customer service agent named John made the process very simple and easy. Pura Vida from Costa Rica!
Susan McNamara — Portland, Maine
★★★★★
We found out that our daughter's passport had expired just the day before we were due to leave. Called around to several passport agencies, and spoke to Nathan. He was the most knowledgeable, and had the best service. We went with Fast Passport Center, and don't regret it! Great results, they got the passport right on time, just as promised. Strongly recommend..
Jane L. – Los Angeles, CA
★★★★★
Thank you. You did your job..got my passport processed, etc., but what I appreciated was that I was really so angry with myself for not seeing that my passport had expired, just 5 days before we were set to leave for Alberta. I sent you a couple of emails asking about the progress of my passport, and you replied each time within minutes it seems. You kept me posted & I just wanted to thank you for that. We'll be leaving 108 degree Palm Springs Tuesday landing in Calgary. Thanks for helping make that happen
John Poston – Desert Hot Springs, CA
★★★★★
I just wanted to send you a Huge HUG and THANK YOU! With your assistance and the professional service that your company provided, I was able to receive an expedited passport to enjoy a fabulous All Ladies trip for 5 days in Jamaica! There were 14 of us! No kids, no boyfriends, no husbands! Although it came down to the wire before my trip departure, I made it!!!!
JRhonda S, Brown – Mackie Colleges, and South University
★★★★★
I was a bit dubious dealing with a company I haven't used or had a personal recommendation for but you delivered as promised. Feel free to use this as an endorsement if it helps. Your company was great & delivered exactly as promised! As a travel agent, I will recommend to my clients for future services.
Maia A. – Round Rock, TX